Social media is no longer where young people stay connected.
Now everyone from high school students to grandparents, executives and farmers want to connect with each other. As this market grows, there is a social platform for all. But who's using what and why? How often do they get connected? What kind of information do they share? What do they like and dislike? These are some of the questions we answer in this report.
User Segments
In this study conducted online among a nationally representative sample, we identified three specific user segments: Current users, Abandoners and Social Media Virgins.
Abandoners have used social media or networking sites or apps in the past, but they don't use them anymore, while Social Media Virgins have never used these sites or apps.
---
| | |
| --- | --- |
| Have you ever used any social media/networking sites or apps1 ? | |
| | |
| --- | --- |
| 1 | The social media/networking sites or apps listed or given as examples for this study included: eHarmony, Facebook, Flickr, Google+, Instagram, LinkedIn, Match.com, Medium, Meetup, Pinterest, Reddit, Snapchat, Swarm, Tinder, Tumblr, Twitter, Vine, WhatsApp, and YouTube. Respondents also had the opportunity to include or name other similar sites or apps they use. |
---
Users vs. Non-Users
17% of Americans currently don't use any social media sites or apps, mostly due to security and privacy concerns, lack of time to "keep up" with them, and/or the inability to find content they feel relevant.
While most non-users are Baby Boomer men, the percentage of younger generations (Millennials and GenXers) leaving social media is higher than expected (48%). 
| | |
| --- | --- |
| | Women lead among social media users, and have a majority between Instagram and Facebook fans; almost 7 out of 10 Instagram fans are women. |
---
Where Current Users Live
Americans living in the West and South use social networks more than those living in the Midwest and Northeast. Actually, most non-users live in the Northeast of the US.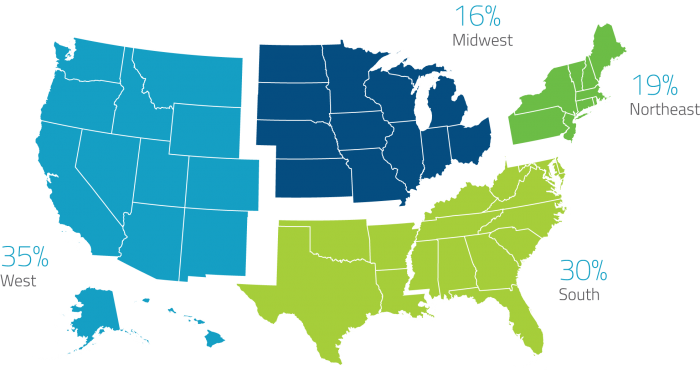 ---
Different Types of Users
In this report we identified 5 sub-groups of current social media users: the avid, the frequent, the butterflies, the breakups and the unknowns. We also list the favorite sites/apps among them.
| | | | | |
| --- | --- | --- | --- | --- |
| | | | | |
| Avid | Frequent | Butterflies | Breakups | Unknowns |
---
Top Social Networks
The top 5 sites or apps among social media users are: Facebook, YouTube, LinkedIn, Google+ and Twitter. Avid users, those who use these sites/apps at least once a day, chose four of these networks as their favorites but they prefer Instagram to LinkedIn.
Some of the things that make these sites or apps their favorites are: the simplicity and ease of use, content relevance, higher user base, frequency of use, and most importantly, they see them as an easy way to stay in touch with family and friends.
45% of social media users spend 1 to 3 hours per day on these sites or apps, while only 4% don't use them on daily basis.
Overall, Facebook and YouTube are seeing more for personal things, while LinkedIn and Google+ are seeing more for business. Twitter is a bit mixed, with more people using it for personal than for business reasons. 
| | |
| --- | --- |
| | The social networks Americans have broken up with the most are: Match.com, Flickr, Twitter, LinkedIn, Vine and eHarmony. |
Social media users look at the value they get from a site or app vs. the time they invest on it. The number of hours users spend on these social networks has a direct correlation with their engagement, increasing or reducing abandonment rates.
Overall, social media users are more observers than participants, they prefer to watch or "take" content from these sites or apps, rather than to post or share. When they do interact, they prefer to share with close friends and family.
Most users don't like sharing brand-generated content, however, some will share when they are incentivized to do so.
---
Other interesting data you will find in this report:
Facebook fans tend to be mostly GenX women, YouTube fans are mostly GenX men, and Instagram fans are mostly Millennial women.
YouTube and Instagram fans have a higher representation of minorities. 27% of Instagram fans are Latinos.
YouTube fans are physically more active than Facebook and Instagram fans.
This is just a sneak peek into our report. Find out more about the profile of each of these user and non-user groups, how they use these sites or apps, what they like and dislike the most, and their "ideal" social networks, among other interesting takeaways.
---
Click below to download the full report